Última Esperanza Collective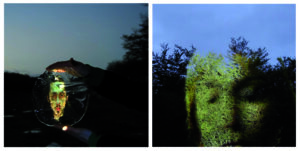 ULTIMAESPERANZA is an experimental art collective born in 2004 in the Chilean sub-Antarctic territory (Punta Arenas, Puerto Natales). It is directed by the artists Sandra and Nathaniel Alvarez Ulloa, who invite in every project one or more artists from diferent disciplines to explore concepts like identity and memory. For a year they worked with the artists Eduardo Velasquez and Marco Martinez on his new project HIDROPOÉTICA, with which they travel through the glaciers of the region.
ULTIMAESPERANZA has been exhibited in Chile, Argentina, Mexico, USA, Spain and Germany. From 2009-2011 it has collaborated on a serie of video pieces dance and transmedia experiences. Currently besides «Hidropoética» the group is in the development of a project called LIQUENLAB, which consists of a series of artistic residences that promote contemporary art projects promoting the relationship between art and science using technology as an exploratory and expressive medium.
http://colectivoultimaesperanza.wordpress.com/
www.accionesvideodanza.blogspot.com